Senegal: Bonergie Irrigation I
Expanding access to solar powered irrigation technology
Challenge
In Senegal, agriculture accounts for over 70% of jobs and up to 17% of the country's GDP. However, the majority of farmers depend upon the country's rainy season to grow their crops; limiting yields and leaving farmers vulnerable to fluctuating rainfall.  Where they have been adopted to date, pumps used to extract ground water for irrigation are largely fuelled by diesel, with fuel, deployment and pump maintenance currently accounting for a significant proportion of farmer's operational costs, making it very difficult for small scale farming to be profitable.
As part of the Government of Senegal's wider commitment to delivering 100% electrification by 2030, it has been identified that the country has high levels of solar irradiation. Solar has the potential to deliver a clean alternative to supplant the use of diesel irrigation pumps, reducing farmers' costs and CO² emissions, increasing profitability and enabling year-round crop yields in rural Senegal.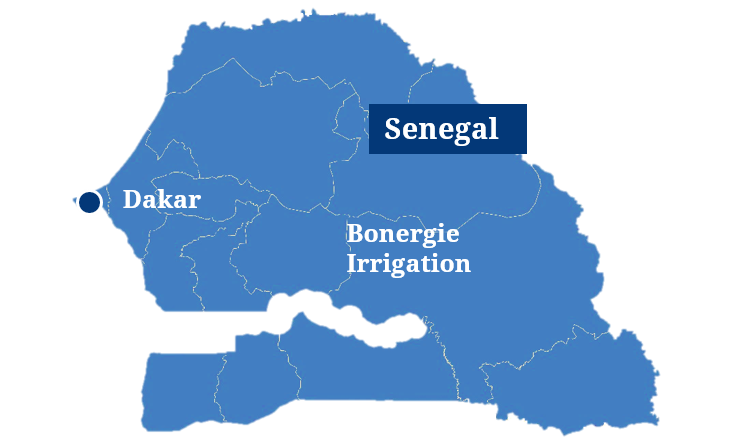 Solution
InfraCo Africa and solar equipment specialist, Bonergie Senegal, have established local Special Purpose Vehicle, Bonergie Irrigation SASU (Bonergie Irrigation), to produce and implement high quality Solar Powered Irrigation Systems (SPIS) across rural Senegal. The first phase of the project will deliver 100 SPIS, replacing existing diesel pumps or providing small-scale farmers with first time access to irrigation.
The first phase will seek to demonstrate proof of concept, piloting Bonergie Irrigation's accessible financing model which enables farmers to access the systems via a Hire Purchase Agreement (HPA), spreading payments over a period of 18 months. During the HPA period, Bonergie Irrigation will install and maintain the systems as well as providing farmers with water management training to ensure responsible use of the irrigation systems to prevent over-abstraction of groundwater. At the end of the HPA period, each farmer will become energy autonomous, owning his or her system outright, with the option to enter into a maintenance agreement with Bonergie Irrigation.
Bonergie Irrigation provides a range of six different irrigation systems, identifying the most suitable system for each farmer depending on the depth of the water source and its distance from the farmer's land. With a capacity of between 12m³ and 59m³, each unit harnesses electricity from up to 20 solar panels and can pump water up to 30 metres from the source.
It is anticipated that the pilot phase will prove the environmental and cost benefits of adopting solar powered irrigation over existing diesel systems and will demonstrate the effectiveness of Bonergie Irrigation's financing model to ensure that accessing the cleaner technology is affordable for small-scale farmers. Providing  more farmers with access to irrigation, enabling them to diversify their crops, harvesting throughout the year to feed their families and increase household incomes. The project's first phase is expected to become operational in 2020 and, if successful, will trigger a  second phase to substantially scale up access to solar powered irrigation in Senegal.
Being developed by InfraCo Africa and Bonergie Irrigation