Kenya: EkoRent Nopea
Accelerating access to clean transportation
Challenge
Across Africa, populations are growing rapidly, with increasing numbers of people moving to urban areas for work and education. By 2050, it is estimated that African cities will be home to an additional 950 million people. In Kenya, rapid urban growth coupled with limited public transport and dependence upon fossil fuels for vehicular transport has led to congestion and poor air quality in cities such as the capital Nairobi. With the Kenyan Government's commitment to expanding the role of renewables in the country's energy mix, attention has turned to the potential for investment in electric mobility to reduce greenhouse gas emissions and expand the role of renewables in the Kenyan transport sector.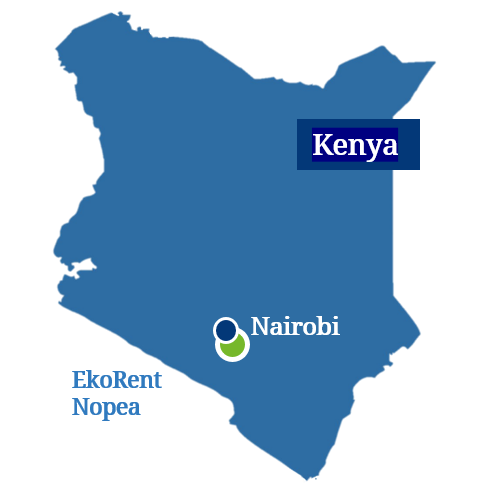 Solution
InfraCo Africa has joined with EkoRent Oy (EkoRent) to support the expansion of its Nairobi-based electric taxi company, NopeaRide. Established in 2017 by subsidiary EkoRent Africa, NopeaRide is the first 100% electric taxi-hailing service on the continent. The company runs a small fleet of electric vehicles and charging stations located across the city, with drivers and customers accessing the platform via a mobile application.
InfraCo Africa's involvement will enable the company to grow its NopeaRide Electric Vehicles fleet up to 100 (70 additional), in tandem with the expansion of the required charging infrastructure across the city. New charging stations will be rolled out in an efficient and cost-effective manner using data derived from Nopea applications (both drivers and passengers), Nopea vehicles, charging stations, and by monitoring of traffic flow and popular journey routes. NopeaRide now has 14 grid-tied charging points in six locations across Nairobi and recently began development of the city's first solar charging hub.
As well as cutting direct greenhouse gas emissions, NopeaRide's electric vehicles and charging systems  reduce the running costs and maintenance burden of its fleet when compared with taxis which use combustion engines. For the company's local drivers, these cost savings are reflected in 30-50% higher incomes than they could earn driving conventional taxis. NopeaRide plans to move towards driver-owned vehicles, with plans to offer maintenance training and technical services.
PIDG Technical Assistance (PIDG TA) has provided US$80,000 to support the project management of NopeaRide's first solar-powered charging hub in Nairobi. A further US$80,000 PIDG TA grant will fund work to attract private investment to underpin the business' long-term growth.
The EkoRent model is highly replicable and it is anticipated that, by enabling the company to scale its offering in Nairobi, the project will attract private investment into the electrification of  private and business transportation in cities across the region.
Having declared its insolvency in November 2022, the business is no longer operating.