World Economic Forum: In emerging markets, patience is a virtue in the race to net zero
15th Jul 2021
This article was originally published as part of the World Economic Forum's Agenda series.
Co-authored by Gilles Vaes, CEO of InfraCo Africa and Allard Nooy, CEO of InfraCo Asia.
The original article can be found here.
Infrastructure projects in emerging and frontier markets are seldom financially viable on their own due to financial, technical and regulatory hurdles.
'Patient capital' provides the time and space needed for high-quality infrastructure projects to get off the ground.
Targeted investment of public money can catalyse private sector investment for infrastructure projects that contribute to global net zero.
Sub-Saharan Africa, south and south east Asia have some of the world's lowest historic and current Greenhouse Gas emissions per capita. However, they are often most impacted by the changing climate, facing risks to health, livelihoods, food security, water supply and economic growth. Patient capital and development leadership can drive efforts to deliver climate-resilient infrastructure that addresses these impacts. The long-term nature of patient capital – combined with the fact that it is often backed by both the public and private sector – means that it is an important lever in the equitable transition to global net zero.
The challenge of attracting smart capital where it is needed most
Infrastructure development straddles multiple sectors identified as key drivers in the race to net zero: energy, transport, logistics, agriculture, and water and sanitation. Whilst CO2 emissions in developing markets remain small in comparison to those of countries such as China and the US, populations are growing rapidly. Without access to infrastructure that leapfrogs fossil fuels and combustion engines, emissions in these regions will escalate over the coming decades. There is also the issue of social justice. Infrastructure access needs to be equitable, it must enable jobs and meet the aspirations of the predominantly young population, and it needs to be delivered swiftly.
Whilst we have seen heightened investor interest in renewable energy in recent years, a lack of bankable projects remains a key challenge to closing the infrastructure gap in emerging markets.
What is 'bankability' and why does it matter?
In short, bankability is whether or not a project or business has the potential to be commercially viable. If it does, and it meets the stringent thresholds of a funder or lender, the project secures investment, be that a bank loan or long-term debt and equity investment from private investors or from pension and insurance funds. As the risk/reward profile of most investors is not well-suited to developing projects in frontier markets, many good projects fail to become bankable.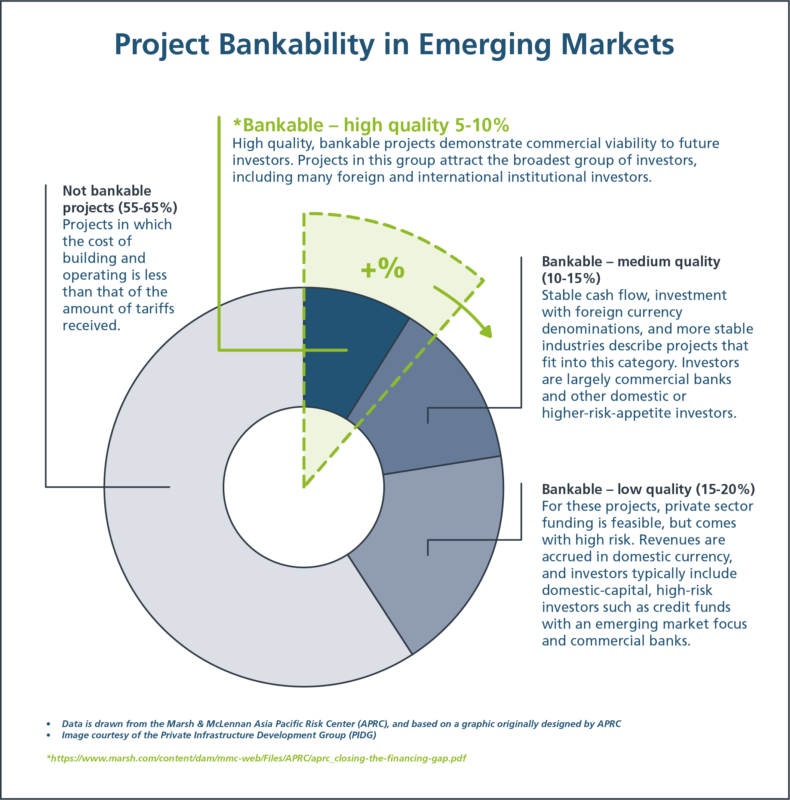 This is where patient capital comes in
In the context of infrastructure, patient capital takes a relatively small amount of public money – and invests it into projects that could help bridge a market gap and to provide benefit to the communities that they are intended to serve.
By leveraging the value of public sector funding, but doing so with a private sector mindset, it is possible to target the nexus between innovative concept and bankable reality. In demonstrating the value of new business models and piloting technical solutions, the goal must be to mobilise the all-important private investment required to sustain these projects in the longer term.
Transforming an on-grid renewable energy project from concept to operations can take between five and 10 years in emerging markets. These timeframes require patience, political will and a willingness to innovate to overcome obstacles; these behaviours can be enabled by multi-lateral donor backing in the form of patient capital.
What sets the patient capital model apart from purely commercial investment is that, although it seeks a decent return, it is not only an investment of money, but an investment of time.
And that time must be used wisely.
Creating sustainable infrastructure projects involves working with key stakeholders, including governments and regulators, to develop new, private-sector-friendly regulatory frameworks. Across the process, we work hand-in-hand with locally based partners to grow their business models and embed international standards of governance, health and safety, environmental management and more. We prioritise the empowerment of women and girls.
In short: patient capital and development leadership are the engine behind a process that is not quick nor easy, but that does hold the key to more resilient, profitable projects capable of attracting more private investment in the long term.
Show don't tell
The key is not just delivering one successful wind project or electric mobility initiative but enabling that success to scale. Successful projects must be replicated in a way that transforms lives and livelihoods whilst supporting the clean energy transition that is so vital in the race to net zero.
Much like baking, once you have perfected the recipe and have baked your first cake – one that smells good and tastes good – you can make many more of them. InfraCo Africa is nearing completion of its first large-scale mini-grid project, serving 12,500 customers in rural Sierra Leone, and recently entered a second such transaction, utilising the expertise gained here to deliver first-time power in rural Kenya.
InfraCo Asia has pioneered run-of-river hydropower generation in Viet Nam's Lao Cai province, reducing reliance on fossil fuel imports and increasing access to clean energy. Having worked with government and local stakeholders to develop a high-quality facility, the project attracted first-time investment in the region from a large international investor, enabling the company to sell its stake and reinvest its capital in other projects. Driven by the enabling environment that the project helped to create, 1,500 megawatts of new small hydro power capacity has since been developed by the private sector in Viet Nam.
Where next?
Patient capital has huge potential to deliver that rare combination: sustainable development impact and financial returns. When patient capital is deployed with these aims in mind, businesses and financial structures which target inclusive, sustainable growth have the starting point they need to thrive. Rather than being brought down by challenging market dynamics, infrastructure businesses operating in emerging markets become agents for achieving the United Nations' SDGs and the transition to net-zero emissions.
And the genius of this approach is that it can be replicated. With the right regulatory frameworks in place, and government officials with the experience to shepherd renewable energy projects, private investors are more confident to engage. Over time, new projects emerge that can stand on their own in terms of investment viability and capacity to overcome development hurdles. Patient capital is the key ingredient in that successful recipe; it can be used again and again to bridge gaps in the emerging market infrastructure space and beyond.
This Agenda blog is part of a series dedicated to mobilising investment for clean energy in emerging and developing economies. Learn more about the related initiative, a project driven by multiple stakeholders associated with the World Economic Forum with the goal to remove barriers, identify solutions and enable collaborative actions to significantly scale investments for clean energy in emerging and developing markets.
Written by