Kenya: A new credit enhancement facility
Working to strengthen infrastructure capital markets
Challenge
Kenya's capital markets are recognised as among East Africa's more sophisticated, and the country holds significant wealth in pension, life insurance and private wealth funds. However, Kenyan infrastructure projects are largely reliant on US dollar denominated bank loans to finance their development, loans which seldom offer the length of tenor required for successful infrastructure developments and which expose borrowers to currency exchange risk.
As Kenya looks towards a sustainable recovery from the COVID-19 pandemic, strengthening local capital markets will be key to building the investor confidence necessary to ensure that vital infrastructure projects have access to domestic institutional finance in order to support this recovery.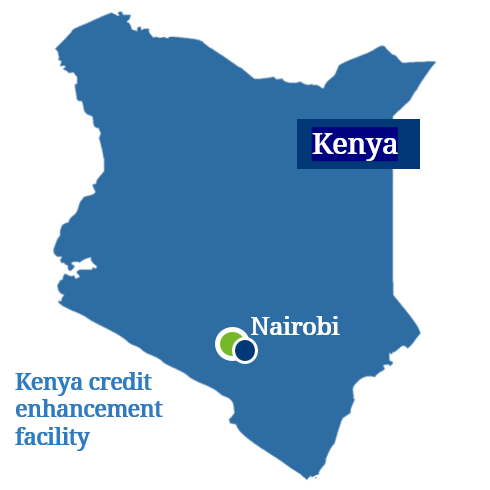 Solution
In Nigeria, a precedent has been set for addressing the challenge of unlocking domestic investment for infrastructure asset classes. In 2017, the Nigerian Infrastructure Credit Enhancement Facility (InfraCredit) was established by PIDG company GuarantCo – fund managed by Cardano Development  – and the Nigerian Sovereign Investment Authority to provide local currency guarantees, enabling infrastructure projects to raise debt finance from the domestic market. In 2020, InfraCo Africa provided equity, through its dedicated investment vehicle backed by the UK Government's Foreign Commonwealth and Development Office (FCDO), to grow InfraCredit's offering, boosting access to vital finance for Nigerian infrastructure projects. Following on from the success of InfraCredit, PIDG has sought opportunities to replicate the innovative model in other geographies, including establishing InfraZamin in Pakistan.
In Kenya, PIDG collaborated with Cardano Development to undertake feasibility studies for a credit enhancement facility to promote participation of long term capital providers in the country's debt capital markets.   The studies noted the potential catalytic effect such an institution might have on mobilising support for Kenya's infrastructure sector and InfraCo Africa has now partnered with Cardano Development to share expertise with a view to establishing a credit enhancement facility in Kenya.
Once established, it is anticipated that the credit enhancement facility will attract institutional capital to the country's infrastructure sector, diversifying the portfolios of local pension and insurance fund holders. It will also serve to give infrastructure developers access to the local currency capital needed to deliver bankable projects, promoting long term economic development.
Being jointly developed by InfraCo Africa and Cardano Development.