Chad: Djermaya Solar
Lighting the way for renewables in Chad
Challenge
In Chad, the country's installed power generation capacity is largely reliant upon Heavy Fuel Oil and diesel. In spite of subsidies, Chad's available capacity is insufficient to meet demand and just 11.7% of Chad's population has access to electricity.  Those businesses and households with access experience frequent power outages.
The Government of Chad (GoC) recognises that reliable, affordable power underpins social and economic development. Its  Agence de Développement de l'Electrification Rurale et de la Maitrise de l'Energie  (ADERM)  is specifically tasked with mobilising investment for renewables. Chad experiences exceptional levels of solar irradiation (up to 2800kWh/m2 in some areas) and therefore solar has the potential to transform the country's energy sector: reducing generation costs and so reducing subsidies while also enabling the GoC to connect more people to power.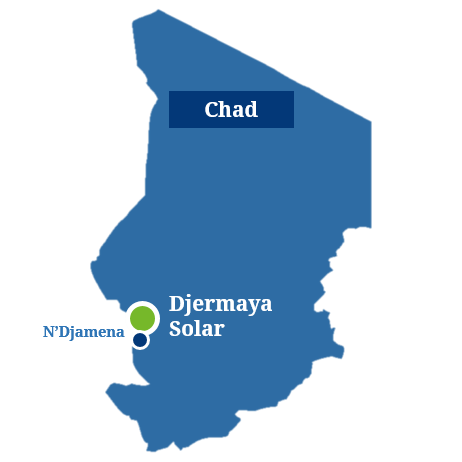 Solution
This project will construct an initial 32MWp solar PV plant in Djermaya, 30km north of Chad's capital, N'Djamena. Development of Djermaya Solar will be phased to gradually integrate renewable power into Chad's national grid. The first 32MWp phase is intended to be fully financed in 2021 and operational in 2022. This will be followed by a second 28MWp phase. To further reinforce system stability, the project's design integrates state-of-the-art technology including single-axis trackers and a battery energy storage system (BESS). The BESS will be financed under a €6.35m commitment from the EU-Africa Infrastructure Trust Fund (EU-AITF). Once built, the project will be one of Chad's first Independent Power Producers (IPP) and one of the country's first commercial-scale solar plants.
This pioneering project will play a leading role in delivering on the GoC's National Development goals: to liberalise the energy sector, mobilise private investment and promote the development of renewable energy in Chad. The project is benefiting from strong collaboration between government Ministries, ADERM and SNE.  In 2019, the African Development Bank supported Djermaya Solar with an Euro18m loan and Partial Credit Guarantee, and other Development Finance Institutions are exploring opportunities to become involved with the project. Djermaya Solar has also received US$854,200 in grants from PIDG Technical Assistance (TA) for legal and environmental support. PIDG TA has recently provided US$1.5m in Viability Gap Funding.
Being jointly developed by Aldwych Africa Developments Ltd (on behalf of InfraCo Africa) and Smart Energies.