Tanzania: Lilondi Hydro
Cascading the benefits of small hydro
Challenge
In rural areas of Tanzania, just 22% of the population has access to electricity, with reliance upon gathered wood for fuel and candles or lamps for lighting  impeding economic development and contributing to household air pollution.  The Government of Tanzania (GoT) recognises access to electricity as a key enabler for development of Tanzania's industrial and investment environments and for continued poverty reduction. However, recent efforts to extend access to the country's national grid have been hampered by high cost of extending transmission and distribution networks and insufficient generation capacity.  One promising solution lies in the largely untapped potential of small hydro. Small hydro plants (< 10MW) can be connected to the distribution network or to local mini-grids, serving to stabilise supply or deliver  first-time power directly to homes and businesses in remote areas.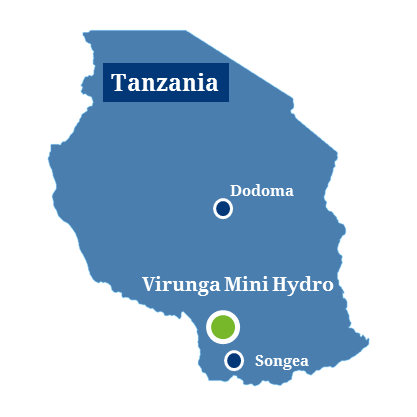 Solution
The Lilondi Hydro project will develop a 4.6MW run-of-river hydro plant on the Lilondi River in Tanzania's southern region of Ruvuma, close to the border with Malawi. The project, which will feed into the distribution network, will improve voltage stability to one of the most remote areas, as well as substantially reducing the transmission and distribution losses that would otherwise occur. The Lilondi project will be a pilot project to demonstrate feasibility of small hydro to the private sector and so raise financing and support for a portfolio of subsequent hydro projects. The portfolio will be delivered in partnership with a local project developer and rural utility, Virunga Power.
InfraCo Africa and lead developer Virunga Power are focused on developing strong relationships with local communities to ensure the project's success. Delivering access to clean, affordable power to serve Lilondi and other remote communities will promote small business growth in Tanzania's frontier markets. The scalable portfolio model has considerable scope for replication across rural Tanzania and wider East African markets.
Development being led by Virunga Power