Empowering Rural Communities: Solar Mini-grids Illuminate Sierra Leone
17th Oct 2023
Case study from Sierra Leone – Containerized power asset solutions for solar off-grid mini-grids
Context
Sierra Leone's challenging socio-economic context includes high poverty rates, particularly among children, unemployment, a serious lack of healthcare and limited access to electricity[1].
As of 2020, Sierra Leone's rural electrification rate stood at a mere 4.8%, making it one of the lowest rates in sub-Saharan Africa. Acknowledging the challenges posed by costly grid expansion, the Government of Sierra Leone (GoSL) has identified off-grid solutions as a viable approach to meet the electricity demands of its rural communities. In the wake of the Ebola virus' impact on both the population and economy, energy generation, distribution, and governance have been included as key priorities within the Recovery Agenda. The government's development plan also promotes low-cost renewable energy[2].
The Medium-Term National Development Plan 2019-2023 differs from the Recovery Agenda on the other hand by seeking to expand electricity generation, transmission, and distribution, engage the private sector, and ensure responsible leadership[1].
With the approval of the Electricity & Water Regulatory Commission's mini-grid regulations in 2019 by the GoSL, clarity and incentives for the off-grid sector have finally been provided. This is an indicator of the long-term commitment of the government to the sector[1].
Multiple organisations are now contributing to enhancing electricity access in Sierra Leone.
Overview of the project: Sierra Leone Rural Renewable Energy Project (RREP)
[3]
Project Owner: Government of Sierra Leone, Ministry of Energy

Donor: Foreign, Commonwealth and Development Office (FCDO)

Contribution: 37,739,328 GBP (43.789.885,76 €)

Project Implementation: UNOPS (Project Management and Infrastructure Development)

Start Date: Oct 2016

End date: May 2022
The Sierra Leone Rural Renewable Energy Project (RREP) aimed to enhance energy access and generation capacity through renewable sources. The initiative, supported by the UK's Foreign, Commonwealth & Development Office (FCDO) and implemented by UNOPS, the United Nations Office for Project Services, was able to provide sustainable, clean energy to 94 rural communities across 4 regions. The project provided around 5 MW of solar mini-grids, fostering social and economic growth, reducing greenhouse gas emissions, and stimulating productive use in mini-grid areas[2][3].  
The RREP, spanning from October 2016 to May 2022, was divided in several phases consisting of a total of 94 solar-powered mini-grids and 3 stand-alone systems installed at the Communities Health Centers (CHCs) across the country[3].
The first phase, Work Package 1 (WP1), involved the electrification of 54 community health centers and network distribution to one school in the Port Loko District. Distribution networks serve to extend electricity access to schools, businesses and houses in different villages. Work Package 1 was successfully completed in July 2017. As of January 2019, 3 selected operators were actively involved, and the installations were sequentially transferred to them. PowerGen operates Region 1 and 2, Winch Energy manages Region 3, and Energicity (PowerLeone) oversees Region 4[3][4].
During the second phase, known as Work Package 2, 44 additional mini-grids were set up and managed through co-investment with private sector operators[3].
The three private sector operators already selected for WP1 were involved in this Work Package 2 as well: PowerGen, Winch Energy, and Energicity. They facilitated the connection of households, built the solar power assets and then continued to manage the power supply networks with all the customers connected – contributing to improved welfare and economic development in rural Sierra Leone. Each operator signed a Public Private Partnership (PPP) Agreement with the Ministry of Energy (MoE) in December 2018 leveraging $10M in private sector investment[1][3].
The project also involved additional actions, including:
Work Package 3, concentrating on providing technical guidance and institutional reinforcement (capacity building) to both the government and the private sector. This aims to establish a conducive atmosphere for the development of mini-grids and their sustained operations over the long term[3][4].
Work Package 4 which was an amendment to the initial contract to support the response to landslide and flooding[1][4].
Work Package 5 focusing on overseeing monitoring and evaluation (M&E) activities as well as managing communications[1][4].
Work Package 6, focusing on strengthening and promoting productive use within mini-grid regions, thereby fostering local economic advancement and societal progress within these communities, and ultimately enhancing their well-being. This approach is grounded in the notion that electricity is essential but not solely adequate for economic progress. It emphasises that the impact of initiatives aimed at enhancing energy access (such as solar mini-grids) depends on their capacity to stimulate productive activities, particularly those of businesses[1][3][4].
And Work Package 7 which supports affordability of non-generation asset procurement. A fund now managed by UNOPS, has been created to help subsidise the further purchasing and roll out of non-generation assets, such as electricity meters and sockets, and to eliminate public reserve account payments by the operators for the first four years of the project[4].
Technical Aspects of the 20 containerized solar systems from Asantys Systems
PowerGen Renewable Energy has established off-grid power solutions within the Rural Renewable Energy Project (RREP), in a 20-year public-private partnership with the GoSL[2].
One out of 20 energy containers designed and delivered by Asantys Systems GmbH and installed by the operator partner PowerGen in a village in Sierra Leone. Photo: Michael Duff – InfraCo Africa
PowerGen, through their Sierra Leone project company Off-Grid Power (SL) Ltd*, has tendered 20 containerized solar systems for implementation in Work Package 2 of the RREP. The German system integrator and EPC Asantys Systems GmbH was selected to supply the containerized solar power assets.
In a remarkable collaboration, German partners SMA Sunbelt Energy, HOPPECKE Batterien and solar system integrator Asantys Systems GmbH, joined forces to supply these 20 containerized solar systems for mini grids to PowerGen Renewable Energy. Asantys Systems GmbH oversaw the design, procurement, and delivery of those systems.
This milestone project, implemented by Off-Grid Power* (funded by PIDG company, InfraCo Africa) aimed to provide first-time electricity to 6,657 households & businesses in Sierra Leone, making it the largest off-grid solar energy initiative in the country.
Ranging from 30kWp to 130kWp, these systems utilised cutting-edge inverters from SMA Solar Technology and low-maintenance lead-acid batteries from HOPPECKE Batterien.
The impressive total project capacity reached 1.3MWp solar power and 5.76MWh battery capacity.
The containerized solar systems were delivered in two shipments in February and April 2020.
A technical installation training was conducted in Freetown, Sierra Leone by Asantys Systems GmbH, SMA Sunbelt Energy and HOPPECKE Batterien shortly before the outbreak of COVID-19 in February 2020.
Inside one out of 20 energy containers designed and delivered by Asantys Systems GmbH and installed by the operator partner PowerGen in a village in Sierra Leone. Photo: Michael Duff – InfraCo Africa
When it comes to the implementation of the mini-grids from PowerGen, close collaboration and technical expertise enabled the successful delivery, installation and commissioning of all the containerized solar systems. Despite the unforeseen challenges of the COVID-19 outbreak, the project partners pressed forward with determination. The project remained resilient and committed to uplifting communities through sustainable energy solutions. At the end, a total of 6,657 households in rural Sierra Leone were illuminated for the first time, with access to clean and sustainable electricity provided by the containerized solar power solutions from Asantys Systems GmbH[2]. This milestone achievement represents a significant step towards improving lives and fostering development in the region.
"The collaboration with Asantys Systems GmbH was a great experience. The containerized solar power assets provided are well designed and together with the technical training provided to the PowerGen team before installation, we can operate these systems without failures. Their experience, close communication during engineering and installation as well as the O&M support help us provide reliable and clean energy to our communities". Michael Corbishley, COO PowerGen Ltd
–> More photos and an overview video of the project are available here.
Outcome
The project aims to expand clean energy access and promote SDG7 and net-zero goals in sub-Saharan Africa. [2]According to the Impact evaluation report of the Rural Renewable Energy Project in Sierra Leone this project's expected impact includes economic growth, improved livelihoods, health, and education outcomes, as well as reduced Green House Gas emissions. An estimated 346,015 individuals in rural Sierra Leone have directly gained access to electricity. These beneficiaries access connections through households, CHCs, schools, commercial and productive uses and the Work Package 6 grant programme[4].
The project also extends its impact to 373,976 indirect beneficiaries. This figure represents those residing in the project's service areas, anticipated to benefit from improved services, enhanced service delivery, and increased income opportunities[4].
Ultimately, this project is providing universal access to electricity for over half a million people in rural Sierra Leone including the following achievements[4]:
Through the electrification of CHCs and the extension of the mini-grids to the community, rural households that otherwise are unpowered have access to reliable electricity.
When mini-grids are operated by private sector contractors, the private sector is then engaged in investments, operations, and maintenance of the generation and distribution equipment.
The enhanced environment fosters private sector investment and ensures the commercial sustainability of off-grid electricity supply.
The growing need for electricity, fuelled by the stimulation of private sector growth, ignites private firms' curiosity in exploring business prospects within rural regions.
Concluding one can say this project has already improved lives, generated local employment, and is fostering rural economic development.
*a joint venture between PowerGen and PIDG company, InfraCo Africa
References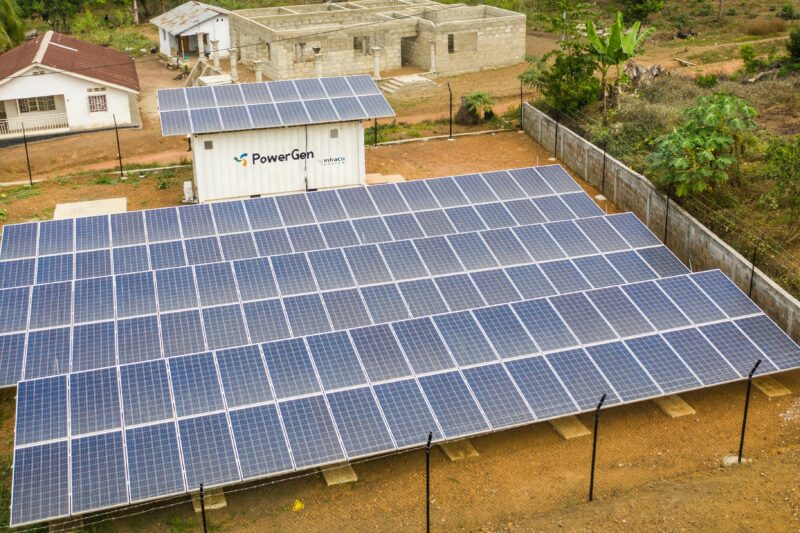 Rolling out off-grid energy access
The project operates a portfolio of solar, battery, diesel hybrid mini-grids serving over 13,000 customers across the southern and eastern half of Sierra Leone. An extension, supported by UEF, will expand access to further communities.