Sierra Leone: Sierra Leone Mini-grid Project
Rolling out off-grid energy access
Challenge
Sierra Leone has a rural electrification rate of just 4.8%, one of the lowest in sub-Saharan Africa. The Government of Sierra Leone's (GoSL) National Renewable Energy Action Plan recognises the potential of off-grid solutions to address the electricity needs of the country's rural population where the economies of grid deployment are prohibitive. Following the impact of the Ebola virus on Sierra Leone's people and economy, the President's Recovery Priorities include access to energy.
To progress the GoSL's priorities for rural electrification, the UK Foreign, Commonwealth and Development Office (FCDO) has supported the development of a Rural Renewable Electrification Project (RREP). The first of its kind in scale and scope in Sierra Leone and the wider region, RREP is being implemented by the UN Office for Project Services (UNOPS) and aims to deliver 5MW of off-grid power, electrifying 94 communities across four regions.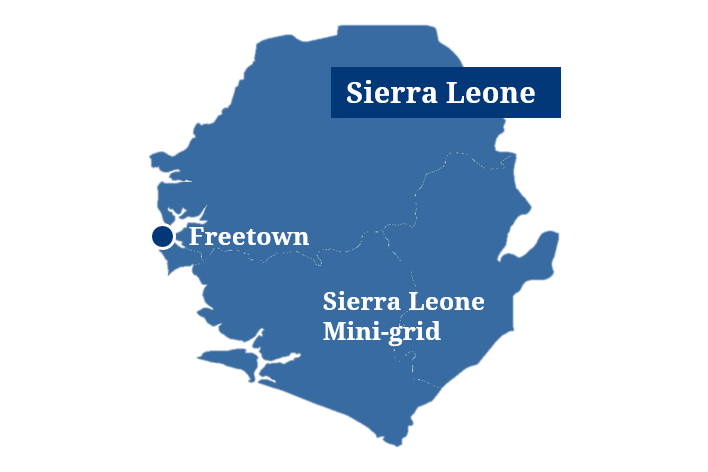 Solution
Through a FCDO-funded programme implemented by UNOPS, PowerGen is now responsible for developing off-grid power solutions in two of Sierra Leone's four geographic regions under a 20-year public-private partnership with the GoSL. InfraCo Africa will work with PowerGen, to develop this ground breaking project.
A project company, Off-grid Power (SL) Ltd (Off-grid Power) was formed to finance, develop, construct, commission, own and operate a portfolio of solar, battery, diesel hybrid mini-grids serving up to 13,339 customers across the southern and eastern half of Sierra Leone.  With around 85% of connections allocated to households and 15% to micro, small and medium enterprises and public institutions such as schools and health clinics, it is anticipated that the initiative will generate employment and will have a significant positive impact upon living standards in rural Sierra Leone.
The project has secured US$110,825 of grant funding from PIDG Technical Assistance to undertake a pre-feasibility study on the potential roll out of productive use solutions.
Construction began in 2019, with mini-grids delivering first time power to rural businesses and communities through 2020 to 2022.
Being developed by InfraCo Africa and PowerGen Renewable Energy