Piloting a new financing model to scale energy access in Sierra Leone
18th Jan 2023
Freetown, Sierra Leone: Following the successful commissioning of their Sierra Leone Mini grid project which has connected over 13,000 homes and businesses to clean energy, PIDG company InfraCo Africa and PowerGen Renewable Energy (PowerGen) have announced that they are collaborating to roll out further mini-grids in the country. InfraCo Africa has committed up to US$1.2m to the new initiative which will form part of a wider programme in Sierra Leone by the Universal Energy Facility (UEF). The new project is expected to deliver circa 1,660 new connections across eight sites, providing first-time connections for homes and businesses.
Established to incentivise developers to increase the speed and scale at which clean energy access is achieved across sub-Saharan Africa, the UEF is a multi-donor results-based finance (RBF) facility managed by Sustainable Energy for All. It seeks to accelerate progress aligned with Sustainable Development Goal 7 (SDG7) and the Paris Agreement. The UEF is operating across a number of sub-Saharan countries. In this instance, the project will benefit from grant funding from the UEF on a per-connection basis.
InfraCo Africa's Asset Manager Amine Amar, currently leading the Sierra Leone Mini-Grid project,  said: "We are delighted to be continuing our strong relationship with PowerGen as we develop and deliver clean energy access for more communities in Sierra Leone. Having commissioned mini grids in forty communities which now serve over 13,000 customers, we can clearly see the impact that access to energy has for businesses, households and clinics in rural Sierra Leone." He continued, "As we seek to expand these benefits to more customers, we are excited to be doing so as part of the UEF programme. We hope that we can help to demonstrate the viability of the RBF mechanism in the minigrid space and subsequently, the UEF's potential in Sierra Leone and across sub-Saharan Africa to deliver SDG7 whilst supporting global efforts to reach a net zero carbon economy."
InfraCo Africa and PowerGen have been working together in Sierra Leone since 2019, rolling out solar hybrid mini grids across the south and east of the country as part of the country-wide Rural Renewable Energy Project (REPP). As the RREP draws to a close, the Government of Sierra Leone remains committed to the country's growing off-grid energy sector.
PowerGen's Country Manager for Sierra Leone, Hassan Suma, said: "PowerGen is excited to be working with InfraCo Africa and SEforAll as part of the UEF's results-based financing programme. We support the UEF's mandate to increase energy access through minigrid connections, as we have seen first-hand the positive impact a solar minigrid connection can have on households and the community at large, including improvements in education, healthcare and increased economic activity." He continued, "We hope to work with the UEF to further expand our services to some of the hardest to reach areas, to deliver reliable solar electricity to previously off-grid areas, and to continue to be the leading renewable energy utility company of Sierra Leone."

Damilola Ogunbiyi, CEO and Special Representative of the UN Secretary-General for Sustainable Energy for All and Co-Chair of UN-Energy, said "The Universal Energy Facility will help improve electricity access in communities across Sierra Leone. Mini grids supported by the facility will power households and businesses, creating jobs and economic growth within these communities."
PowerGen and InfraCo Africa  will draw on their experience of delivering mini grids in rural and remote locations to high standards of health, safety, environmental and social governance, with the construction of the first UEF-supported sites expected to commence in March 2023.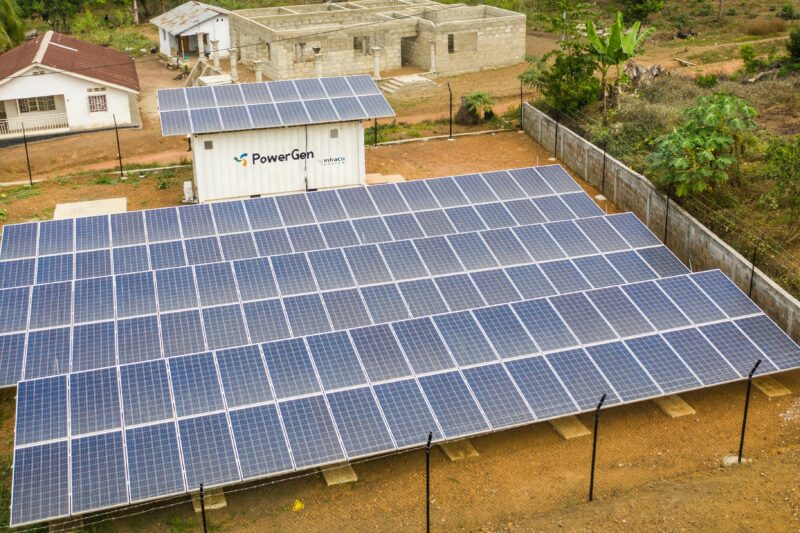 Rolling out off-grid energy access
The project operates a portfolio of solar, battery, diesel hybrid mini-grids serving over 13,000 customers across the southern and eastern half of Sierra Leone. An extension, supported by UEF, will expand access to further communities.