Malawi: Golomoti Solar
Building Malawi's solar energy future
Challenge
Malawi has an electrification rate of just 18%, with frequent power outages affecting economic productivity. The country's energy sector is currently reliant upon hydro power; however, rainfall fluctuations have severely impacted electricity generation in recent years, with the situation expected to worsen. The Government of Malawi has recognised energy as a key driver of economic growth in its Growth and Development Strategy (2017-2022) and is working to establish regulatory frameworks needed to attract private sector investment to Malawi's energy sector. The government is also committed to diversifying the country's energy mix to mitigate against climate vulnerability and reduce reliance on expensive diesel generation. High solar irradiation levels suggest that developing solar power generation could have considerable potential to support this objective.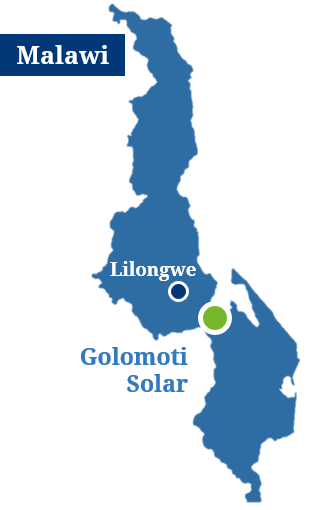 Solution
Golomoti Solar is a 20MWAC solar photovoltaic project with a 10MWh battery energy storage system (BESS) at Dedza, approximately 100km south east of Malawi's capital, Lilongwe. The plant will connect to the adjacent Golomoti substation which will evacuate power via an 132kV transmission line, facilitating delivery of much-needed power to Malawi's national grid. Golomoti Solar is the third of Malawi's commercial-scale solar photovoltaic plants, and the first with a BESS
InfraCo Africa co-developed Golomoti Solar with JCM Power (JCM), a Canadian clean energy Independent Power Producer. The two companies have an established relationship, having worked together with Matswani on the 60MWAC  Salima Solar project which was commissioned in 2021. Golomoti Solar began delivering power to Malawi's national grid in 2022.
Jointly developed with JCM Power.