Malawi: Salima Solar
Starting the journey to solar power
Challenge
Malawi has an electrification rate of just 11.2%. The Government of Malawi recognises energy as a key driver of economic growth in their Growth and Development Strategy (2017-2022) and is working to establish the regulatory frameworks needed to attract private sector investment to the sector. The government is also keenly aware of the need to mitigate the vulnerability of its current power supply to drought and fluctuating oil prices. High solar irradiation levels suggest that solar power could offer a viable addition to Malawi's energy mix.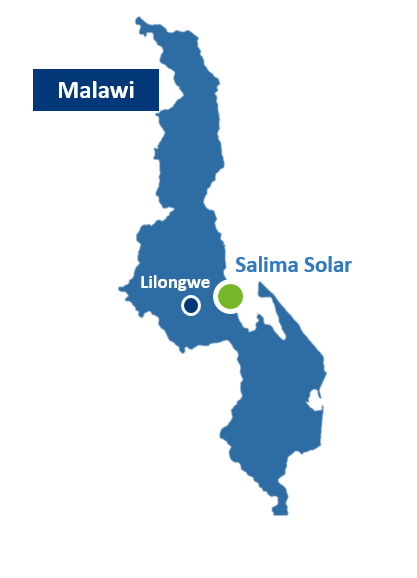 Solution
InfraCo Africa was approached by JCM Clean Power Development Fund (JCM) – a leading developer of renewable energy projects in sub-Saharan Africa – and a local developer, Matswani, to co-develop the Salima Solar project. Situated 75km east of Malawi's capital, Lilongwe, the project now delivers up to 60MWAC of power to Malawi's national grid and is set to leverage a total committed project investment of $91.2 million.
Following a competitive tendering process, the project has engaged Total Land Care, a specialist Malawi-based NGO, to deliver a wide-ranging programme of agricultural training and support for local farmers affected by the project, expanding its scope to benefit the wider community also. Entitled 'Endowing Farming Families with Opportunities for Resilience and Transformation,' (EFFORT) the community-based initiative will run for three-years. The project also engaged a professional chef from Lilongwe to train a team of local women to prepare and serve free, nutritious meals for the construction team each day from the on-site African Food Kitchen facility.
The Salima Solar project ties in with Power Africa initiatives in the region which aim to connect more people to the national grid. By addressing the shortfall in energy supply, Salima Solar will serve to enhance the ability of these initiatives to meet demand from newly connected consumers. As well as catalysing new opportunities for local businesses, the project will also create new jobs in the area and reduce reliance upon expensive diesel generators, improving indoor air quality and cutting carbon emissions.
The project has secured grant funding from PIDG Technical Assistance (PIDG TA) to support specialist studies, including the exploration of beneficial community initiatives with potential to be developed close to the project site. TA has also provided a further $6 million Viability Gap Funding grant to the project to accelerate progress to construction.
As the country's first commercial-scale solar IPP, Salima Solar has considerable potential for replication; promoting further development of Malawi's solar resource. By also demonstrating the efficacy of government regulatory frameworks, the project is expected to increase investor confidence and so facilitate future private and DFI investment into Malawi's renewable energy sector.
Being jointly developed with JCM Power.