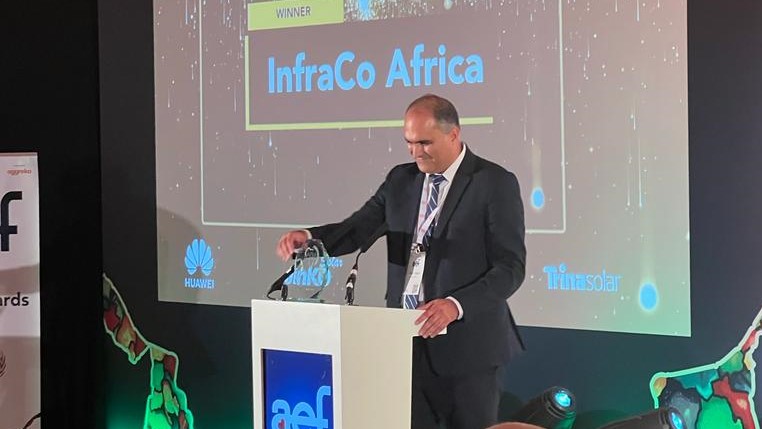 Salima Solar recognised as AFSIA's 'Utility-scale solar project of the year.'
17th Nov 2021
Marriott Grosvenor Hotel, London, UK: The 60MWac Salima Solar project being delivered by JCM Power and PIDG company InfraCo Africa in Malawi, has been recognised as 'Utility-scale solar project of the year,' by the Africa Solar Industry Association (AFSIA). The 2021 AFSIA Awards Ceremony was held last night, in person and online, during the ongoing Africa Energy Forum.
The AFSIA Awards are designed to recognise and celebrate companies and individuals that have contributed outstandingly to promoting and advancing the use of solar across Africa in its full diversity. They recognise good practice, professionalism, quality, safety and innovation, with the aim of being a marker of the brightest and best that the African solar industry has to offer.
Salima Solar is the first commercial-scale solar photovoltaic plant in Malawi and is now delivering 60MWac of clean power to the country's national grid.
Accepting the award on the night, InfraCo Africa's Head of Business Development, Nabil Saimi, said: "I am honoured to accept this award on behalf of the Salima Solar Project. The project has been a true collaboration between ourselves at InfraCo Africa, the wider PIDG and our partners, JCM Power. We have had strong support throughout from the Government of Malawi and the national utility, ESCOM, for our vision to deliver significant  solar generation capacity to Malawi's national grid." Mr Saimi continued, "Salima Solar is Malawi's first utility-scale solar IPP. We have taken learnings from this; continuing our partnership with JCM to commence construction on another –  Golomoti Solar – which, thanks to support from Innovate UK, will pioneer the use of a battery energy storage system to further integrate renewables into Malawi's national grid." Mr Saimi concluded, "We are also extremely proud of the project's work with local communities to support health outcomes and agricultural livelihoods and we look forward to continuing this work now that the plant is operational."

Speaking from Malawi, Justin Woodward, JCM Power's Co-founder and Chief Development Officer, said, "We are delighted that Salima Solar has been recognised by AFSIA, it is a truly ground-breaking project – Malawi's first utility-scale solar IPP – which is now delivering 60MWac of clean power to Malawi's energy customers." He concluded: "We were honoured to receive His Excellency Lazerus Chakwera, President of the Republic of Malawi on site yesterday to officially mark Salima Solar's inauguration and this news really adds to the sense of a 'job well done' among the project team."