Zambia: Chiansi
Scaling up smallholder access to irrigation
Challenge
The agricultural sector is Zambia's largest employer, however, only 14% of arable land is currently being farmed and mostly by smallholder farmers. The Government of Zambia are committed to maximising the potential of the country's agricultural sector to make a sustainable contribution to Zambia's GDP, food security and household incomes; identifying pro-poor agriculture-led development as a key part of its 6th National Development Plan (2011-2015) and National Agricultural Investment Plan (2014 – 2018). The country benefits from high levels of rainfall and fertile soils but yields can be vulnerable to seasonal rainfall fluctuations. Zambia's commercial farmers use irrigation to extend growing seasons, diversify crops and increase yields. Smallholder farmers, however, lack the scale and finance to harness the potential of irrigation.
In 2006, InfraCo Africa piloted a new approach to deploying irrigation infrastructure through its Chanyanya project in Zambia's Kafue District. The Chanyanya project pooled smallholders' land and established a smallholder cooperative to enable delivery of irrigation infrastructure for a commercial farm and market gardens.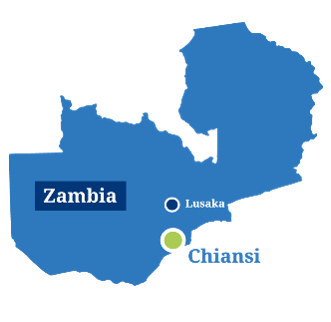 Solution
The Chiansi Irrigation Infrastructure Project (Chiansi) area borders Zambia's Kafue River, around 45km from the country's capital, Lusaka. The Chiansi project will substantially scale up existing bulk water irrigation and market garden plots for the nearby communities of Chikupi and Demu North and South.
Construction work on the project is well advanced. Initially extending existing bulk water infrastructure to deliver sufficient canal capacity to irrigate up to 3,800ha of land within the Kafue District. Funded by an ORIO and TA grant, ownership of this infrastructure will revert to the Government of Zambia (upon completion of construction), enabling the benefits of irrigation to be shared across the wider region.
In addition, InfraCo Africa have applied lessons learnt form the Chanyanya project to establish a new commercial farm. Working together with SUDECO, a South African private investor, the project will establish and operate a 1,336ha commercial farm. The farm will create local jobs, deliver training and demonstrate replicable best practice in the operation and maintenance of a comprehensive irrigation network.
The Chiansi project will also provide the infrastructure needed to irrigate market gardens for up to 960 local smallholders. Market Garden Committees will also be established to enable agricultural knowledge and technical know-how to be shared across the local community, to improve local food security and enhance household incomes through the year-round sale of fresh produce.
Chiansi draws on learning from InfraCo Africa's Chanyanya project and over a decade of experience of working with communities in the Kafue District. The project also leverages grant funding from the Dutch ORIO Infrastructure Fund and PIDG's Technical Assistance  (TA) and mobilises investment from the private sector. Collaborative initiatives such as Chiansi, have the potential to stimulate economic development and contribute to the alleviation of poverty across sub-Saharan Africa.
Construction is being led by SUDECO with funding from ORIO and TA.