Senegal: Bonergie Irrigation I&II
Expanding access to solar powered irrigation technology
Challenge
In Senegal, agriculture accounts for over 30% of jobs and up to 16% of the country's GDP. However, the majority of farmers depend upon the country's rainy season to grow their crops; limiting yields and leaving farmers vulnerable to fluctuating rainfall.  Where they have been adopted to date, pumps used to extract groundwater for irrigation are largely fuelled by diesel, with fuel, deployment and pump maintenance currently accounting for a significant proportion of farmer's operational costs, making it very difficult for small scale farming to be profitable.
As part of the Government of Senegal's wider commitment to delivering 100% electrification by 2030, it has been identified that the country has high levels of solar irradiation. Solar has the potential to deliver a clean alternative to supplant the use of diesel irrigation pumps, reducing farmers' costs and CO² emissions, increasing profitability and enabling year-round crop yields in rural Senegal.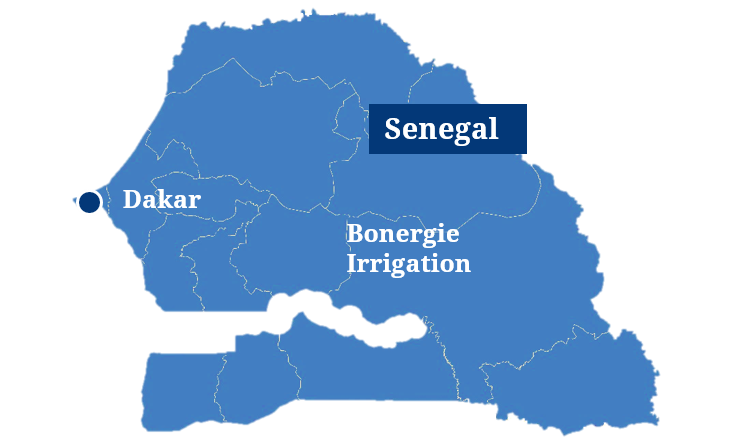 Solution
During the Bonergie Irrigation I pilot phase, InfraCo Africa and solar equipment specialist Bonergie established a local Special Purpose Vehicle, Bonergie Irrigation SAS (Bonergie Irrigation), to produce and implement high quality Solar Powered Irrigation Systems (SPIS) across rural Senegal. The first phase of the project delivered over 120 SPIS. A customer survey performed by 60 Decibels in April 2021, interviewing 74% of the customers, highlighted that Bonergie is reaching an under-served market, with 69% of the customers having a first access to SPIS, with 92% not having access to good alternatives. The survey also showed a positive impact in the farmers' lives, with 7 out of 10 customers having witnessed an increase in their income and quality of life that they attributed to the solar pump.
The pilot also trialled Bonergie Irrigation's accessible financing model which enables farmers to access the systems via a Hire Purchase Agreement (HPA), spreading payments over a period of 18 months. During the HPA period, Bonergie Irrigation installs and maintains the systems. At the end of the HPA period, each farmer becomes energy autonomous, owning his or her system outright, with the option to enter into a maintenance agreement with Bonergie Irrigation.
Bonergie Irrigation provides a range of six different irrigation systems, identifying the most suitable system for each farmer depending on the depth of the water source and its distance from the farmer's land. With a capacity of between 12m³ and 59m³, each unit harnesses electricity from up to 20 solar panels and can pump water up to 30 metres from the source.
The pilot phase has demonstrated the environmental and cost benefits of adopting solar powered irrigation over existing diesel systems and the effectiveness of Bonergie Irrigation's financing model in ensuring that accessing the cleaner technology remains affordable for small to medium-scale farmers. To date, SPIS have enabled farmers to diversify their crops, harvest throughout the year to feed their families and increase their household incomes.
Additionally, one of the key findings of the pilot phase has been demand from farmers for drip irrigation systems in order to optimise efficiency of irrigation whilst also protecting groundwater sources from over-abstraction.
Following the commercial success of the pilot, InfraCo Africa has invested in Phase II of the project which will see the commissioning, sale, installation and maintenance of over 2,000 additional SPIS and 500 drip irrigation systems designed to optimise efficiency of irrigation; substantially scaling up access to solar powered irrigation in Senegal.
Being developed by InfraCo Africa and Bonergie Irrigation