Kenya, Tanzania, Uganda: Waterbus
Connecting isolated communities through safe marine transport
Challenge
The Lake Victoria region is home to 40 million people living around the Lake in Kenya, Uganda and Tanzania. Access to transport between Lake Victoria's various mainland and island communities is limited. To reach mainland services and to transport their produce to market, passengers are largely reliant upon open wooden canoes with diesel-powered motors. These unscheduled vessels travel only when they reach capacity, are slow and lack shelter, with fish and fresh agricultural produce vulnerable to spoilage. Storms can capsize open canoes which have few, if any, safety measures in place for their passengers.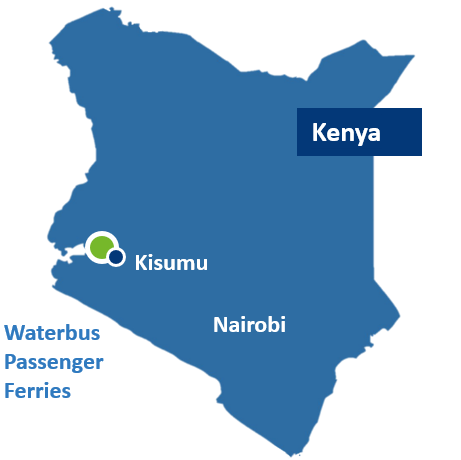 Solution
Established in Kisumu, Kenya, in 2010, WaterBus is operated by Globology Ltd. The company designs builds, owns and operates safe and affordable catamaran ferries serving isolated mainland and island communities. Waterbus is the first passenger-focused service to deliver scheduled ferry routes on the Lake, currently operating two 132-seater vessels and two 80 seater safe, modern catamaran vessels for passengers and light cargo on two Kenyan routes, with one further 100 seater ferry under refit. The vessels are fuel-efficient and give passengers access to drinking water, toilets and well-ventilated indoor seating areas which shelter them from inclement weather and protect their cargo.
Demand is growing for more ferries to operate additional routes in Kenya and for new routes to be made available in Tanzania and Uganda. In 2022, InfraCo Africa invested to scale the Waterbus offering allowing it to deliver five new ferries serving five new routes by 2025. Waterbus generates 95% fewer hydrocarbons per passenger per hour than the most common outboard diesel engines used by canoe operators. To further reduce fuel consumption and cut the emissions of each crossing, the company has secured US$800,000 of grant support to pilot retrofitting of a solar boost system to two of its vessels. If the expected reduction in fuel consumption of around 15% is achieved, solar boost systems will be fitted to the wider Waterbus fleet.
Manufactured in Kenya, Waterbus vessels provide onshore jobs in welding, plumbing, electricals and painting, as well as jobs for well-trained vessel crew members. InfraCo Africa's investment will also enable Waterbus to finance a new boatyard in Kisumu and retool to improve production speed and quality.
InfraCo Africa brings expertise in passenger and freight transportation on Lake Victoria to the project derived from its Kalangala Infrastructure Services and East Africa Marine Transport projects. InfraCo Africa's investment and support will ensure that Waterbus continues to meet international Health, Safety, Environmental and Social standards and embeds high quality workforce policies, crew qualifications and standards, including efforts to attract more women to jobs in the marine transport sector.
The new vessels will support SDG 9 that focuses on the development of regional infrastructure, to support trade enablement and human well-being. Based on survey data, 40% of passengers are expected to live on or below the international poverty line.
By mobilising investment to enable Waterbus to scale it's offering, it is anticipated that the company will be well positioned to attract private sector investment and to use internal revenues to scale further in the future.
Being developed by InfraCo Africa, Dutch Oak Tree Foundation /  DOB Equity, Hooge Raedt Social Ventures BV, LER Investment Company Ltd, ESOP and John Malcolm Ormiston with Globology Ltd.